Rick Revel has appeared with the following Artist and Celebrities
Their names appear in no particular order and the list is updated periodically.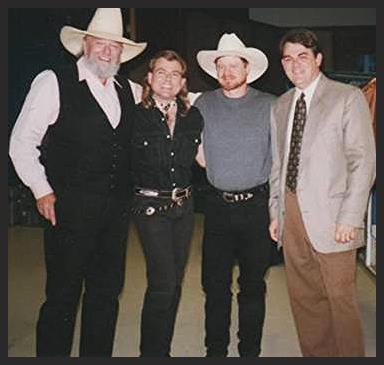 Rick at the INSP Television Studio after the taping of "Cheyenne Country". Co-host of the show was Charlie Daniels and the special guest was Paul Overstreet. During the show, Rick sang "Love In Your Eyes" which reached No. 4 on the national charts and "The Reverend Hollywood" which charted at No. 9.
Charlie Daniels Paul Overstreet Reba McEntire
Alan Jackson Hank Williams, Jr. Trace Adkins
Loretta Lynn Sammy Kershaw John Anderson
Travis Tritt Tracy Byrd Lone Star
Vince Gill Clay Walker Marty Stuart
Ricky Skaggs John Conlee Marty Robins
Charlie Rich Tommy Lee Jones Roger Miller
Tammy Wynette Cissie Spacek Jeanne Pruett
Anita Bryant Shenandoah Shelly West
David Frizzel Connie Smith Jeenie Seely
Jim Ed Brown Ralph Stanley Charley Pride
Freddie Fender Merle Haggard Roy Clark
Little Jimmy Dickens Grandpa Jones Minnie Pearl
Ronnie Milsap Mel McDaniels Carl Perkins
Michael M. Murphy Marty Raybon Pat Boone
Rodney Grant The Everly Brothers Cotton Ivey
The Statler Brothers J.D. Sumner & The Stamps
Johnny Russell Patsy Montana John Quaid
Gene Watson Jimmy C. Newman Mike Snider
Ronnie Stoneman Riders in the Sky The Days
Renee Goodman Billie Jo Spears Teri Lynn
Ricky Lynn Gregg The Hemphills David Wills
Margo Smith Jack Greene Dean Hall
Sons of the Pioneers David Heavener James Horn
Chris LeDoux Billie Jo Shaver The Wihtes
Sam Orbison Don & Daryl Ellis Justin Tubb
Merle Kilgore Rebecca Holden Bobby Bare
Linda Gail Lewis Jimmy Snow Kenny Starr
Red Steagall Little David Wilkins Bob Luman
Wilma Lee Cooper Billie Grammer Jody Miller
Carol Lee Cooper Stonewall Jackson Dale Evans
Whitey Shaffer Jessica Andrews Neil McCoy