Singer, Songwriter, Musician, Actor, Television Host & Master of Ceremonies
rickrevel.com is an Internet Brochure of one of the most unique entertainers in America today!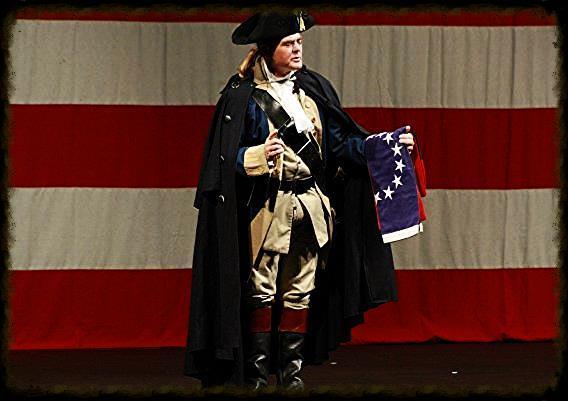 Rick Revel performing as General George Washington for the American Studies Institute at Harding University in Searcy, Arkansas.
He started doing Wild Bill Hickok when he was only 19 and for 3 1/2 years worked at Loretta Lynn's Hurricane Mills Dude Ranch singing and acting in gunfights. One day Mooney saw him play at one of the campfires and said, "You need to meet Mama." Thus began a life long friendship with the Lynn family. "Loretta used to fix me bologna or ham sandwiches and I'd sit in her kitchen and we'd visit." Mooney used to love to show me his horses. He'd cross Belgium draft horses with mules and sit at the kitchen table with binoculars watching them for hours. He was so proud of those horses," Rick remembers fondly. Encouraged by the Lynn's and audience response, gradually Rick began to research and develop other characters putting together a show combining historical readings and his self penned music.
In his own unique way, Revel brings history to life especially for the thousands of young people who have seen his shows at school assemblies across the country. "The overall response has been overwhelming and really inspiring to see people get excited about history and remind them about patriotism," says Revel. "People tell me that my shows have raised the awareness of patriotism and inspired them to trace their own family tree. It's very gratifying to me."
Rick Revel not only loves history, he lives it everyday literally becoming the characters he reveres who have shaped our history. Revel has painstakingly researched down to authentic period clothing, hair, and subtle vocal intonation for each character. Extensively drawing from biographies, autobiographies, letters, and historical texts.
He convincingly portrays George Washington, Meriwether Lewis, David Crockett, Wild Bill Hickok, and heroic Confederate soldier Tod Carter who died in the Battle of Franklin, TN.
A native of Paris, TN, Revel grew up on a farm working cattle and horses, logging with his dad, and dreaming of being the next singing cowboy. "If Gene Autry could do it, I figured I could too," he remembers laughing. His mom played piano, wrote songs, and the Revel house was filled with the sounds of Johnny Horton, Porter Wagoner, Gene Autry, and the Western Theater.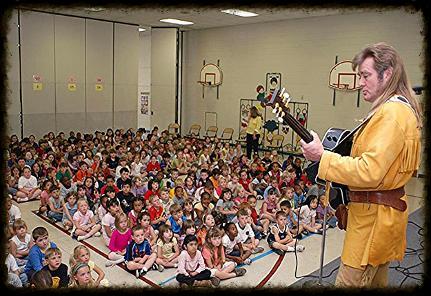 Rick Revel performing at a Tennessee Arts Commission, Student Ticket Subsidy Program.
Revel has also hosted his own syndicated talk/entertainment/music variety television show, which aired throughout TN and KY. He has also had success on the Positive Christian country charts with his songs reaching peaks at #4,5,10, and 19. While he is truly a Tennessean, Rick's goal is to take his love of patriotism, history, and music to the rest of the country and even internationally with a multi media celebration.
This site is a treasure trove of inspiration and patriotic zeal. Whether you are looking for some one with a musical talent, an actor, a spokesperson or a Living Historian, Rick Revel is ready to perform.
Reviews & Remarks From His Peers:
"Rick is an entertainer's entertainer." When asked why such a comment, she replied, " I am an entertainer and I have certainly been entertained this evening by Rick Revel's performance." -Loretta Lynn, CMA Entertainer of the Year, 1972
"This boy has talent and if anyone deserves a break, Rick does. He could easily be the next Johnny Horton."-Merle Kilgore (Deceased) Former manager for Hank Williams, Jr. Mr. Kilgore also complimented Rick after he recorded Merl's song titled "Johnny Reb" by saying, "Hoss, that is the best version of my song I've ever heard, bar none."
"Rick Revel, is one of the most prolific songwriters to come to Nashville in years." Charlie Daniels, on the set of Cheyenne Country, INSP Television
"Rick Revel's, message in song is just what America needs." Pat Boone, on the set of Gospel America, Trinity Broadcasting
"How do you follow an act like that?" Hank Williams, Jr. referring to Mr. Revel after Rick finished his performance as George Washington during an NRA Second Amendment Rally.
"This man can sing!" "Rick Revel's, got great depth and range like very few I have ever heard." Byron Gallimore, producer for Tim McGraw & Faith Hill.
"The man gives one of the best portrayals of Davy Crockett I've ever seen. It's like meeting Ole Col. Davy face to face." Michael Martin Murphy after seeing Rick perform as Crockett at the Ryman Auditorium, in Nashville, TN.