Gunpowder and Petticoats: Mercantile and Military Wares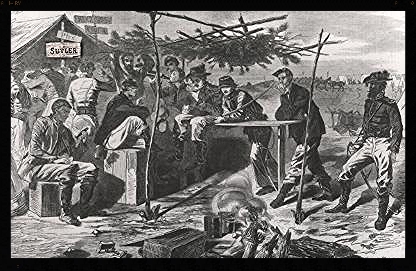 In the Civil War reenactment world, sutlers are the "go to" place for all your reenacting needs. Since 1989, Rick Revel has been setting up and tearing down his shop in some form or fashion.
The first sutler title was "The Son of the South Trading Post", in which Rick operated under that name for over twenty years. As he began to add new shooting products he included the trade name "Company Aytch (H) Quartermaster" to cover his shooter supplies. By 2010, Rick was stocking military uniforms and ladies wear, so a new name was in order. Today he calls his sutlery, "Gunpowder and Petticoats" with the sub-title of, "Mercantile and Military Wares".
Inside his 20ft. x 20ft. Panther Marquis tent you will find 400 square feet of wall to wall merchandise. First and foremost you will find Rick's own educational and entertainment (edutainment) products like books, CDs and DVDs, plus some cool custom designed t-shirts that teach history lessons.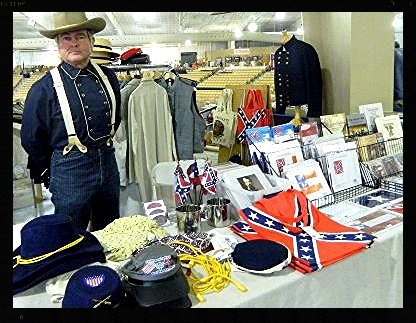 In the reenacting world, flexibility is a must and the ability to adapt to your environment is essential. When Rick sets up at Mike Kent's Civil War Show, it is an indoor, two day event, that not only requires adaptability, it requires versatility. This annual event, now held in Franklin, TN, has one thousand display tables, full of Civil War collectables.
Several years ago, Mike asked Rick to help build the reenactor turn out for his shows. So in an instant, Rick had Mikes answer, he requested that all reenactors dressed in period attire would get into the event free of charge and it has worked. The Mike Kent Civil War Show has become a year end reunion or home coming of sorts, for hundreds of reenactors each December.
So whether it's a one day "Living History" event that requires an "Easy Up" modern or a four day national event that requires a "juried" canvas tent, "Gunpowder and Petticoats" is the sutler to have at your next reenactment.
Now let me tell you a story about a traveling salesman. See there was this farmer and his wife and they had a son who grew up to be a traveling salesman. The son would travel all across this great land, selling his wares and spinning his yarn.
In reference to the Civil War, the traveling salesman was known as a sutler. As the Confederate and Union armies marched all across America, the soldiers had needs that neither army could completely provide. With necessity being the mother of invention, the traveling merchants or sutlers as they were called, followed the armies of both the north and the south. Some sutlers would panhandle from their wagons and others would set up tents for more elaborate display.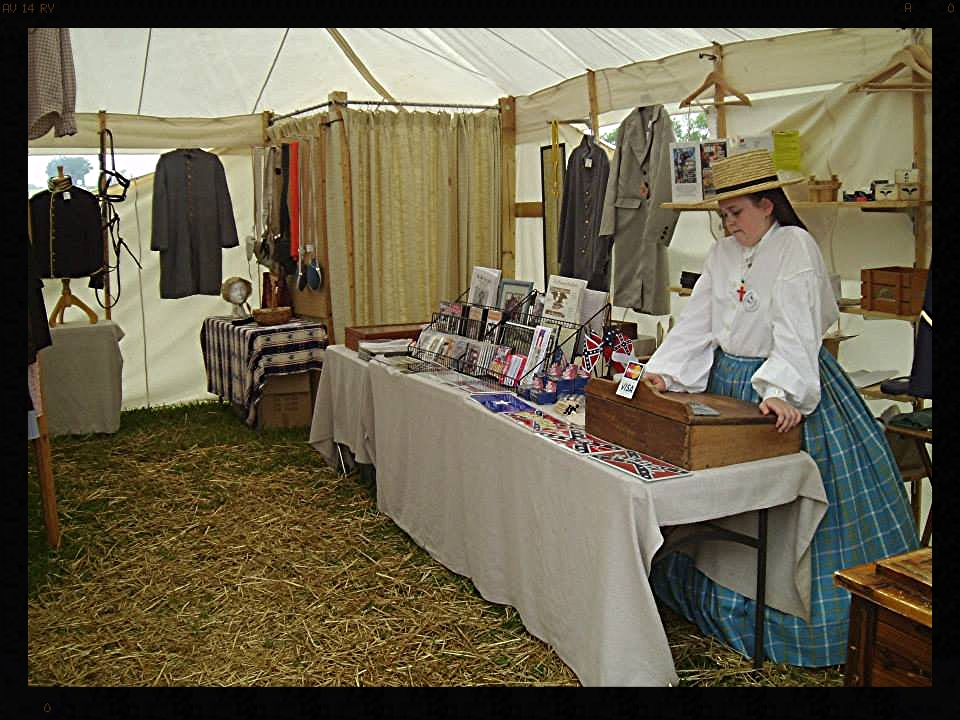 If you want to fly your favorite colors, there is usually a hang up rack full of Confederate and Union banners in polyester or cotton. There are even some smaller flags that can be used for memorial service grave decorations.
For the spectators and visitors, Rick carries a large assortment of souvenir items, including period style toys for the little ones or kids if you're from the South.
For the big kids on the battle field, there are uniforms, footwear, hats and accruements. He has Confederate jean wool and Union wool uniforms and kepis. He has brogans and riding boots for officers and cavalry troopers. The shooter supplies include musket and pistol caps, paper tubes and black powder cartridges.
For the ladies there are blouses, skirts, dresses and accessories. To top it off there a few lady's bonnets thrown in for good measure.