"Commercials With Character"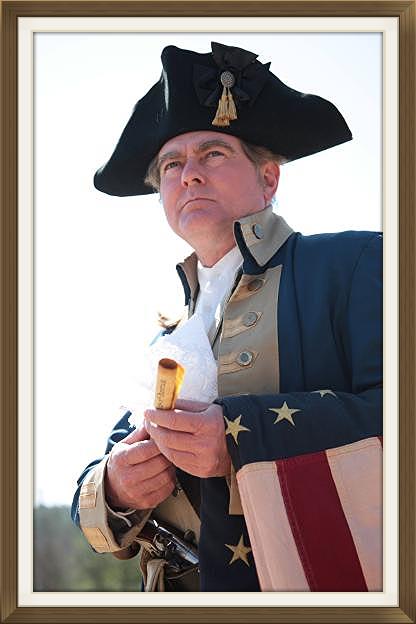 Along with General George Washington, Rick Revel's cast of historic characters include;
David "Davy" Crockett
Daniel Boone
General George Custer
The Minuteman
Meriwether Lewis
Wild "Bill" Hickok
If you are needing a Civil War soldier, characters for both the Union or Confederacy can be portrayed.
These characters are perfect for a automotive; boating; outdoor and sports products; banking and financial; housing; department stores; western wear and tack; farming and agriculture; restaurants and food services; lodging and resorts; and patriotic holidays.
A unique way to sell your product or service!
When it comes to television advertising, those who believe in the medium, know you must be very creative to separate your product or service from the clutter on the airwaves. Veteran actor and living historian Rick Revel, who has been involved in advertising and marketing since the early 1980's, has a new approach to set you apart from the "rest of the pack".
"Commercials With Character", is a simple concept. Take some of the most famous characters in history and let them sell for you. What would it be like to have General George Washington as the spokesperson for your business? A man known for his honesty and integrity would have an incredible impact on the television viewing audience.
"Commercials With Character", can become a whole new marketing campaign that is just waiting to revitalize your business. These commercials can be your signature publicity campaign for prolonged periods or they can be for special, one time events. What ever approach you chose, the outcome will set you apart from the rest of your marketplace.
No matter if you are in a small, medium or major market, there is a fee scale designed to match your budget. So if you are out to reach a few thousand or several million prospects, "Commercials With Character" can be within reach of your budgetary goals.
If you need further creative services such as script writing and video production, those services are also available through "Commercials With Character". A complete turn key television commercial production can be at your fingertips, through one production source.